The UW Department of Health Systems and Population Health (HSPop) is excited to announce two students — Jasmine Alik and Monserrat Morales Miranda — are recipients of the UW School of Public Health Office of the Dean Master's Fellowships this school year.
These fellowships are available to master's level students newly entering the UW School of Public Health, where our department is housed. The intent of these awards is to help the school's master's-level programs attract and retain students with diverse experiences and perspectives.
Meet The 2021 Recipients
Jasmine Alik | Community-Oriented Public Health Practice Master of Public Health (COPHP MPH)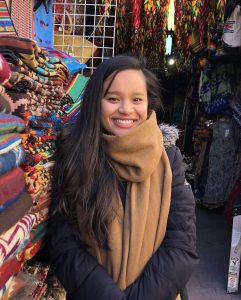 Jasmine Alik plans to focus her master's work on access to health care and health equity for Marshallese people living and coming to the Seattle area.
Alik's family migrated from the Marshall Islands before she was born. The U.S. has a compact that allows residents to migrate to and from the islands without a visa or green card, because of the American military base and previous nuclear testing on the islands.
Alik and her siblings were born in Portland, Oregon, and grew up in the Pacific Northwest. As a U.S. citizen and Marshallese, she saw her own family members — including her grandparents — come to the U.S. searching for better health care only to discover various barriers that await them.
Although the U.S. performed nuclear testing on the island that continues to negatively affect the health and well-being of Marshallese people, they do have access to the health resources they need. "The Marshallese people still haven't been able to heal," Alik said. It was not until December 2020 that the U.S. government signed a bill to restore federal health care, Medicaid, for Marshallese people.
Throughout Alik's higher education, she has always been in search of ways to help her Marshallese community in the U.S. While earning her undergrad, she had been in pre-medicine. "I think access to health care is a right, and I thought that if I was a doctor I could treat and help who I wanted and who needed it most," she said. "Then, I realized medicine is one person at a time and I wanted to make a broader impact. I started to move toward public health."
Alik chose the Department of Health Systems and Population Health within the UW School of Public Health for her master's because it offered problem-based learning opportunities, programs like the Community-Oriented Public Health Practice that focus on social justice and anti-racism, along with the department's work to improve health equity.
All this, along with UW's proximity to the Hanford Nuclear site and the region's connection to Indigenous tribes, resonated with Alik. There are communities and situations in the region that are similar to what her community is facing, especially during the spread of COVID-19.
"My community has been disproportionately impacted by the pandemic, with Native Hawaiian and Pacific Islanders being affected at the highest rate in several counties here in Washington and throughout the country," Alik said. "The lack of access to health care has increased harm and further highlighted how much of a need there is."
Monserrat Morales Miranda | Health Services Master of Public Health (MPH)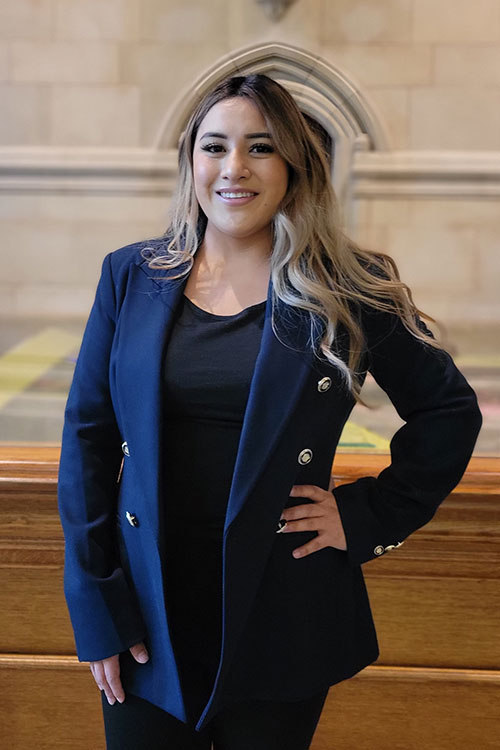 Monserrat Morales Miranda wants to focus on creating awareness and preventative measures that improve the health and well-being of the Latinx immigrant community.
She first learned about the field of public health while earning her health services undergraduate degree from the University of Washington Bothell. She is a first-generation college student and the first in her family to attend graduate school. While earning her bachelor's, Morales Miranda took an introduction to public health course with Grace Lasker, teaching professor and director of Health Studies. It was during Grace's class that Monserrat realized exactly what public health was all about.
"You truly work on real, current issues that are here in the world and in your own community," she said. "You work on interventions to resolve those issues or reduce the impact on the population."
Morales Miranda also began to learn about how awareness can affect people's access to health services.
"People might not attend health programs that are available because they don't know about them or know how the program can help," she said. "I want to help introduce people to what public health can do for them."
Since taking her first public health course, she has participated in internships with Latino Community Fund, a nonprofit, and Sea Mar Community Health Centers. She is now working as a health program coordinator with Community Health Worker Coalition for Migrants and Refugees, helping immigrants throughout Washington state.
"I feel like I'm making change happen within my own community and the communities I work with," she said. "I'm Latina myself, and I see the health disparities that exist within my community."
Morales Miranda is an immigrant herself and grew up in Marysville, Washington, as the oldest of three siblings. She didn't speak English when she first arrived in the U.S. and said she feels fortunate to be where she is in her educational and professional career.
Now, she wants to be able to help her fellow community members learn about the affordable and free health services available to them. "There is always something available for everyone," she said. It is just a matter of spreading awareness and reducing barriers to access, which is exactly what Morales Miranda aims to do in her work as a master's student and future public health professional.