Meet Teah Hoopes, an alum of the UW Online Master of Public Health (MPH).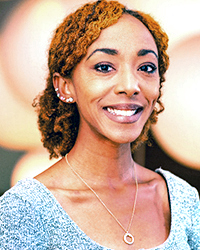 Research Program Manager, Public Health – Seattle & King County
After working in clinical research for more than a decade, Teah Hoopes knew she needed a master's degree to take the next step in her career. The UW Online Master of Public Health ended up a perfect fit.
Today, the UW Online MPH grad is a research program manager for Public Health – Seattle & King County. Here, Hoopes describes how the UW Online MPH program enabled her to pivot into a new, rewarding career in public health.
Could you tell us about your current role?
I work for a statewide HIV prevention program, which aims to increase patient access to pre-exposure prophylaxis (PrEP) and help patients who are on antiretroviral therapy stay healthy. I have a lot of ownership in my role, and I use skills I learned in the Online MPH program to run these programs.
Since the start of COVID-19, my team has also helped with contact tracing efforts. We reach out to people newly diagnosed with COVID-19 and try to understand who they've recently made physical contact with so that those who may have been exposed could get tested. We educate people on how to properly quarantine and check to be sure they can get both the medical and nonmedical support they need. It's been a nearly 24-7 operation since we launched in March, but it's very fulfilling being part of a team trying to control and manage a pandemic.
Why did you decide to do the Online MPH program?
Before the Online MPH program, I worked in clinical research for more than a decade in Seattle. I enrolled in this program expecting to move into clinical trials management, but I was also interested in seeing what other kinds of opportunities were out there. I chose this program because of my personal connection with Seattle and because it was geared for mid-career professionals, rather than for someone right out of school.
What inspired you to pivot from clinical trials and into public health?
I was really energized during the introduction to epidemiology. For this class, rather than memorizing facts and definitions, we were taught how to practice epidemiology by our professor who was an expert in the field and had authored numerous books on the subject. Working in clinical trials was exciting, but my epidemiology courses helped me realize that I wanted to use my skills to help address the health disparities and health inequities that were happening in my own backyard.
What lessons in the Online MPH program have been the most useful in your career?
We explored topics in public health through a variety of real-life case scenarios. In courses like Health Communication & Marketing for Health Promotion, we would learn how to frame conversations about topics like gun violence in a way so that it would be discussed as a concern for public health and safety rather than a concern for political ideologies.
In the program we explored the different ways that institutions, employment, health insurance and health care systems breed health inequities and how to shift the conversations in health care toward addressing these issues. I've brought that knowledge to my organization's equity and social justice committee, which works on promoting equity for both public health employees and the residents in our programs. We discuss topics like how to promote learning opportunities for equity and social justice and how to ensure people of color have the same opportunities for career advancement.
What was your cohort like?
It was a very diverse group. We had clinical professionals like nurses and doctors, health advocates and community health educators. Many were mid-career professionals and so I learned a lot from their experiences. A few had been in public health for just one or two years, and they brought fresh perspectives. Making these lifelong professional connections and friends was a huge benefit of the program.
What were the benefits of the program's format?
I completed the program while working full time and raising two young kids. The program was very flexible, but because of everything going on in my life, I had to really stay on top of my schedule.
Do you have advice for anyone interested in the program?
The instructors are available for you and are there to help you. Get everything you can out of your instructors. Meet with them, ask them questions, read their suggested readings and watch their recommended videos at least twice. To this day, I reference a lot of the material and knowledge they provided.
More Online MPH Alumni