Matt Harnpadoungsataya, PT, DPT, and second-year UW Online Master of Public Health (MPH) student, received the Golisano Health Leadership Award.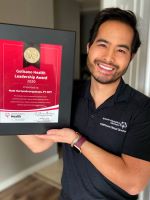 The award is the highest honor for health partners with the Special Olympics. Harnpadoungsataya received the honor for his dedicated volunteer work with Special Olympics Washington. The award recognizes local health champions and their extraordinary efforts for increasing access to essential health care and improving the health of people with intellectual disabilities.
Harnpadoungsataya is being celebrated for his role in the growth and sustainability of the FUNfitness program, a screening and training program designed to assess and improve Special Olympic athletes' performance that is conducted by volunteer physical therapists, assistants, and students. For several years, Harnpadoungsataya has been a Clinical Director for FUNfitness, recruiting volunteers and enhancing patient care by increasing provider and student training.
"We're just so excited to recognize Dr. Harnpadoungsataya as one of our individual leaders that is making a significant contribution to the promotion of equal access to health care, wellness, and fitness for people with intellectual disabilities across the state," said Della Norton, Special Olympics Washington's Director of Health Programs, as she presented the award at the Virtual Winter Games Opening Ceremony on March 1, 2021. Special Olympics Washington athlete Megan Gaines congratulated Harnpadoungsataya on his award, saying, "Thank you for helping us maintain relationships with physical therapy clinics and schools across the state … You rock!"
FUNfitness is part of the Healthy Communities program, which employs several immediate and long-term initiatives to address the severe health disparities faced by people with intellectual disabilities, including lack of access to quality care from specially-trained professionals. His involvement with the program dates back to his days as an undergrad. "I clearly remember always being amazed at the athletes' abilities and the comradery amongst teammates," Harnpadoungsataya said.
While earning his MPH at UW, Harnpadoungsataya has continued his work with Special Olympics Washington and has completed his practicum with the organization. His practicum focused on creating a database of trained health care providers, including health profession students, who are informed and knowledgeable in working with athletes with intellectual disabilities. His literature review revealed a trend that providers and health care workers generally lacked training to effectively communicate with individuals with intellectual disabilities and special needs, and in turn, were not providing adequate care.
"I think there are assumptions that people with intellectual disabilities have unlimited support and resources; however, after the age of 21, adults with intellectual disabilities tend to lose many insurance and health care benefits and services, as many are pediatric-focused," Harnpadoungsataya said. "For years, people with intellectual disabilities are provided with specialized care in their youth and then as adults they are pushed into a generalized health care system with providers who do not necessarily work well with individuals with intellectual disabilities."
Harnpadoungsataya's passion lies in his work in rehabilitation, special needs, and disabilities. "It is important for me that the intellectual disability community feels supported and receives the best health care for their specific needs," he said. "My niece was born with Quadriplegia Cerebral Palsy and my presence throughout her many treatments and procedures over the years was a major influence on my choice to pursue a physical therapy degree." His experience as a physical therapist has been augmented by his MPH curriculum and training, where he is learning to actively address public health issues and how to best use cross-systems collaboration. He cites his coursework in leadership, management, and research as vital to his practicum project and professional development.
When not volunteering with Special Olympics Washington, Harnpadoungsataya currently works as a Rehabilitation Physical Therapist at Seattle Children's Hospital, bringing compassion, empathy, and lots of enthusiasm to his role. "I enjoy the intimate interactions of 1:1 patient care and observing first-hand the improvements in a person's quality of life, but I also feel drawn to community advocacy and the ability to affect policy work … My dream career would be practicing physical therapy part-time and promoting policy strategies for special needs and intellectual disabilities communities."