Meet Paul Clark, an alum of the UW Master of Health Informatics and Health Information Management.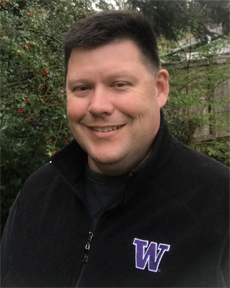 Health Services Manager, Washington State Department of Corrections
As the clinic manager of an outpatient mental health clinic, Paul Clark was a seasoned health care professional. But Clark felt that he needed more than a bachelor's in business administration to truly thrive in the industry.
When Clark heard about the University of Washington Master of Health Informatics and Health Information Management, he knew it could help give him a leg up in the emerging field of health informatics.
"With the promulgation of electronic health records and more agencies that were starting to adopt them, it seemed like a good opportunity to get into a rapidly growing field within health care," Clark said.
Clark entered his master's program in 2013, and, after graduating in 2015, he was accepted into the Presidential Management Fellowship program, which assigns master's graduates to work for government agencies in two-year stints.
After finishing his fellowship with Veteran Affairs in 2017, Clark was on the lookout for a new challenge in the health care field. He found just that through the Washington State Department of Corrections, where he was hired as a health services manager for the state's only women's prison, in Gig Harbor, and the health care authority at Mission Creek Camp in Belfair.
Here's how a UW master's degree helped Clark's career blossom.
How did you balance work and school during your program?
I was working full-time — 40, 50, 60 hours a week sometimes — but the program actually worked out well with my schedule. Our classes were on weekends, and there was the online portion and meeting with instructors over the phone or presentations through Canvas. It was a really neat integration and fit in well with family and work.
How did the program compare to what you were expecting?
My exposure to health records at the time was really just administrative — basically the HIPAA laws and protocols at work. But, as far as the more detailed look into health informatics and health information management, it actually ended up benefiting me a great deal at work. So much so that I was able to actually see problems that were developing before they actually became problems because of the education that I was receiving. For me, it was the perfect mix of what I wanted to do, which was learn more about health informatics, but it also gave me a really strong base in upper-level health care administration.
What was your capstone project?
For my capstone, I actually implemented a program at the VA. I was trying to find a way to reduce the amount of no-shows that the mental health department had in their clinic because we were experiencing about a 20% to 25% no-show rate in the clinic. I learned all the touch points that were involved in the process, and we took a process that had well over a few hundred touch points and got it down to 20. We got the no-show rate down to about 10%, which was better than what we had ever had. The project was successful, and my master's program gave me the opportunity to do it, which was fantastic.
How have the skills you gained at UW shaped what you're able to do now?
It's allowed me to be very proactive in making sure that we're not exposed with liability in regards to transmitting information, in regards to disclosures to the attorney general's office, to the ombudsman, to attorneys who may call in. It's really just having the knowledge base of what's allowed, what's not and knowing where to get that information. It's definitely been an overall benefit — not just to be a graduate of this program but to be a graduate of the University of Washington.
What would you say to someone who is considering this program?
I would say it's absolutely worth it: the value of the education, the knowledge base that you'll get and the connections that you'll make. I'm still in contact with many of the members of my cohort; some of us still meet for dinner. It's created lifelong friendships and lifelong connections within the industry. I would say that if you're thinking about it, understand that it's more than just a program. It will branch into other parts of your life, if you let it, and it will only benefit you that much more.
More Master HIHIM Alumni