Meet Omid Bagheri Garakani, an alum of the UW Community-Oriented Public Health Practice Master of Public Health (COPHP MPH).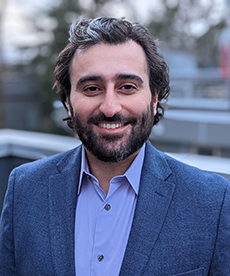 Equity and Social Justice Consultant, Center for Public Affairs, Washington State Department of Health
Since a young age, Omid Bagheri Garakani has been interested in how health impacts not only individuals but their larger communities — and often disproportionately.
"Our society is set up to serve some people over others in all kinds of different ways," Garakani said.
After earning his bachelor's in medical anthropology and global health from UW, Garakani knew that he wanted to keep learning, so he enrolled in the UW Community-Oriented Public Health Practice Master of Public Health.
In this interview, Garakani talks about how his experience in the COPHP MPH program enlivened his passion for health justice and equity and helped him land a job at the Center for Public Affairs in the Washington State Department of Health, where he works to advance equity and social justice.
Where does your passion for public health come from?
One, I grew up in a household that really proactively talked about the importance of health — "health is wealth" — and taking care of yourself and others. That was definitely a seed that got me thinking about doing work where my actions affected other people and whole communities.
And two, in undergrad, I took a course with a lecture focused on going upstream — essentially treating the root cause of a problem, not just putting Band-Aids on the symptoms. I really remember that lecture because it connected the dots between various things I had been thinking about throughout my undergrad. It allowed me to see that there's an area of work within public health that can be strictly focused on addressing those root causes and making sure people are healthy before they get sick.
With so many MPH options out there, what drew you to COPHP MPH?
After I made the decision to focus on public health, I was looking for a program that would let me engage in population health and on community. I started looking at programs that had very clearly written goals and learning principles around community-based health. I also wanted to find a program that really understood that to improve public health systems, we have to have real conversations about how our society is set up to serve some people over others in all kinds of different ways.
Lastly, I was drawn to the program's problem-based learning approach. On paper, that sounded really interesting. Then I was able to sit in on a class as a prospective student, and it wasn't like anything I'd seen or experienced before. Right away, it felt right for me. Collaborative and team-based work was something I always liked. That proved true.
How does problem-based learning differ from a more traditional educational approach?
Well, for COPHP MPH, problem-based learning looks like reading a prepared case study with a team. Already, you're doing something more collaborative than listening to a lecture, taking notes and assessing knowledge through a test. So, you read the case and identify what it's telling you, the issues, challenges, opportunities — you analyze it together. You engage with the content and identify questions that need to be answered, doing so collaboratively, and then ultimately exploring the lessons of the case and answering questions in a discussion-based format.
Did the COPHP MPH problem-based approach help prepare you to work in a public health job?
Definitely, the problem-based learning has prepared me to jump in and start working with folks. That type of learning environment invites you to be a full human in those conversations, which is also a part of real-life work: everyone brings their own background and their own experiences into whatever work they're doing.
Also, the intense, fulfilling conversations and projects with classmates and faculty, plus the work in the community through the program and feeling inspired to jump into more community work on my own — all really transformed me. They transformed me into a person who's interested in doing public health work with an equity and justice focus. I really don't think I would have gotten the same experience from lectures and tests.
How did the COPHP MPH program clarify what you wanted to do after graduation?
I definitely had a personal paradigm shift. As far back as arguably childhood, I wanted to do population community health-type work, but I really wasn't sure exactly what that would look like. After the program I knew I wanted it to be explicitly focused on health justice and in service of community-based movements.
At the Washington State Department of Health, my team's focus is on ensuring there's an equitable approach to the COVID-19 response, particularly with the vaccination rollout for communities who've been hit hardest by COVID-19. It's something that every health department needs right now given what COVID-19 has yet again revealed by our unhealthy systems. Reflecting on my experience with COPHP MPH, I can definitely say it helped me reach this point with my colleagues and do the work I need to do right now.
What would you say to a prospective COPHP MPH student?
You need to be a person ready to engage and dive right in. COPHP MPH is a learning environment where you can dive into tough issues and understand them more deeply from a public health perspective, from a health justice perspective and from a personal perspective. In life, you always have to look for your own learning and growth, and I feel the COPHP MPH experience allows you to do that too in a structured way. It will challenge you; you will grow.
When it comes to public health issues, it's personal. If I talk about the immigrant community, I'm not talking about some community over there, I'm talking about my community, too. I think COPHP MPH allows for that personal piece to come in and invites you to learn about yourself, what you care about and how to communicate what you care about to others, while getting a great graduate school experience in the process.
More COPHP MPH Alumni