Meet Muhammad Alsayid, an alum of the UW Online Master of Public Health (MPH).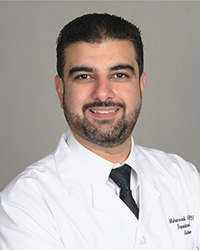 Gastroenterology and Hepatology Fellow, Rush University Medical Center
After completing his medical residency, Muhammad Alsayid knew health care research was the direction he wanted to go. But he needed a master's program to give him the knowledge and confidence to enter the field. The UW Online Master of Public Health (MPH) was everything he was looking for — it offered a solid foundation in research, plus a convenient online format that accommodated a busy work schedule.
Today, Alsayid is a gastroenterology and hepatology fellow at Rush University Medical Center in Chicago, treating patients and conducting research on colon cancer. He shares about how the Online MPH program helped accelerate his career into research.
What do you do in your current role?
I'm a gastroenterology and hepatology fellow who cares for patients with bowel and liver diseases. I meet patients in clinics and perform endoscopies in the hospital.
I'm also researching two topics. I'm working on a project examining patients with precancerous colon polyps. I'm also exploring whether there's an association between food timing and colon cancer. During the second year of my three-year fellowship, I'll begin a master's in biomedical informatics at the University of Chicago, where I'll learn how to use machine learning and microbiome analysis for my research. My program is funded by a grant from the Institute for Translation Medicine supported by the National Institutes of Health.
Why did you choose the UW Online MPH?
To be a competitive candidate for the gastroenterology fellowship, I needed to earn a degree from a prestigious university. The UW Online MPH program was a perfect fit. Not only was the UW School of Public Health highly ranked, but the program also allowed me to focus on biostatistics and health care research design.
What was the online experience like for you?
While I was in the program, I worked in hospitals in Alabama, California and Massachusetts. The program's schedule allowed me to take classes and learn in the evenings after work. We were also given our class schedules far in advance, which was extremely valuable because I could plan my time off from the hospital.
In addition, our professors were great at leading group discussions and getting us to share our thoughts and opinions online. They were also very responsive, and I could count on them to answer our questions through email within a few hours.
What were your practicum and thesis about, and how did those projects help your career goals?
The experience I gained conducting research for and publishing my practicum and thesis helped me get into my fellowship. My practicum, which was a retrospective study analyzing the effectiveness of stool tests for colorectal cancer screening, was published in the Journal of Clinical Gastroenterology and Hepatology. My thesis, which was a study evaluating colorectal cancer screening among Arab Americans, was published online in the journal Primary Health Care Research & Development by Cambridge University Press.
During my fellowship interviews, I was specifically asked about my publications. Talking about my practicum, which was a quantitative study, and my thesis, which was a qualitative study, helped me demonstrate my ability to complete different types of research projects. Also, the experience I gained when conducting those colorectal cancer research projects helped me initiate more studies about colorectal cancer, which has led me to publish additional research papers.
In addition to research, what other skills and knowledge did you gain from the program?
The UW Online MPH program is an excellent program and a great way to understand public health care initiatives and how to manage health care programs. This program gave me a lot of insight into the administrative side of health care, such as hospital financial concerns.
Do you have advice for anyone interested in the program?
Set clear goals. I recommend you know what you want to get out of the program before you start. That way, you can spend your time in the program tailoring the courses you take, activities you participate in and the conversations you have with your instructors toward achieving your goals.
More Online MPH Alumni