Meet Laura Crooks, an alum of the UW Executive Master of Health Administration (MHA).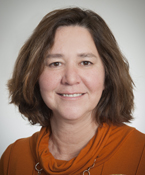 Director, Rehabilitation Services, Pediatric Advanced Care Team and Child Protection Program, Seattle Children's Hospital
Laura Crooks was already a director at Seattle Children's Hospital when she decided to pursue her Executive MHA at the UW. Her degree gave her the skills — and the credentials — to take on an even higher-level position and expand her influence in the international health care community.
Can you tell us a bit about your position?
At Seattle Children's Hospital, I'm the director of Rehabilitation Services, the Pediatric Advanced Care Team (which offers palliative care for children with life-threatening illnesses), and the Child Protection Program (which addresses issues of child maltreatment and neglect).
I have a little over 200 employees in my division and eight managers who report to me. I'm responsible for administrative oversight. I do budgeting, strategic planning and quality assurance and performance improvement. I also do some contract management and negotiations with the state for its child protection program.
Why did you decide to earn the Executive Master of Health Administration?
I was doing some of what I do now on a smaller scale, and there were areas I didn't feel very strong in — like some of the budgeting and strategic planning. I needed more background and foundation around those.
I also wanted to advance my career. Since graduating, I've been placed on a steering committee for the International Pediatric Rehabilitation Collaborative, where I work with others from the United States, primarily, and around the world, looking at children's hospitals and outcomes for kids in pediatric rehab centers. I really like doing that, and I couldn't do it if I didn't have my master's. I needed that extra level of education and credentials, so it was very important to me.
Are you using skills you learned in the Executive MHA program in your job today?
Absolutely. I've done webinars and authored a chapter in a textbook. I've negotiated big contracts. The Executive MHA program helped me to feel confident and be able to pull resources together that I wasn't aware of or that I might not have had the skill to do before.
Do any classes stand out as especially helpful?
The statistics and budgeting classes were really helpful. Also, just last week I was thinking about the class [that covered] how to engage people in the work you're doing [Organizational Behavior & Human Resource Management]. I pulled out some notes and books from that class and used them when I had regulators visiting our institution. I was talking to them about some of the work we needed to do, and I needed to pull them along. And it worked. That happens on a fairly regular basis, actually.
Can you tell us about your capstone project?
It was around feeding tubes standardization for kids at Children's Hospital. It involved people from all over the hospital, including surgeons, pediatricians, nurses, social workers, families and administration. Since then we've standardized the kinds of tubes we put in kids. We used to put in 14 different kinds of feeding tubes and now we put in three. And we used to wait until after we put the tube in to teach the family how to take care of them — now that starts right from the beginning.
It's been great work and saved hundreds of thousands of dollars for the hospital. But more importantly, it has brought increased safety for the patients.
Did the program help you develop your leadership skills?
Absolutely. The national, international and governmental work I do, these new programs that I've taken on — I wouldn't be doing any of that if I hadn't developed my leadership skills and style. For me, that has been one of the biggest strengths of the program.
What did the instructors bring to the program?
They were very smart and knowledgeable. Great people, very approachable. They didn't necessarily give you all the answers, but they helped you think about how to come up with the answers yourself.
Did you make connections with other students in the program?
I'm in contact with people from my class all the time. If I have an issue, I'll reach out to them and say, "What do you think about this? I'm having a rough time with this particular piece, can you help me problem solve it?" My classmates are really knowledgeable, and some of them have become good friends.
What did you value most about the Executive MHA program?
Being around the other students and the professors. Because I was in the executive program, everybody was already working in health care. For me, to be around people who know more than I do in so many different ways, and to be able to grow from being around them and from learning from them, it is still very awe inspiring for me. It touched me and changed how I am as a leader in health care.
More Executive MHA Alumni