Meet Jennifer Phan, an alum of the UW Bachelor of Science in Health Informatics and Health Information Management.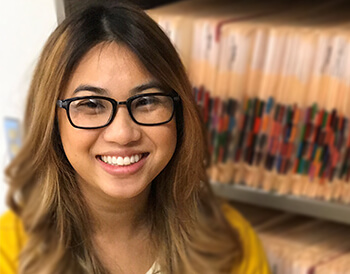 Health Information Management Specialist II, Seattle Cancer Care Alliance
An aversion to the sight of her own blood led Jennifer Phan to pursue a degree in health information management instead of one related to direct patient care.
It's a decision that has paid dividends, as Phan has forged a successful career in the HIM field. Here, she discusses how earning the HIHIM degree and RHIA certification gave her an education and skillset that employers greatly value today.
Can you talk a bit about your current job and how you arrived there?
I work for the Seattle Cancer Care Alliance at Northwest Hospital as a health information management specialist. Shortly after graduating with my HIHIM undergraduate degree, I accepted a job under UW Medicine at NWH in their HIM department. After working in the industry for some time, I earned the RHIA credential, which led to my current position.
Can you explain what you do as an HIM specialist?
My role is unique because I'm located at a community clinic, separate from our centralized office, so I cover a range of HIM tasks. These tasks include indexing, scanning, chart maintenance, release of information, intake, record analysis and physician support.
Did your UW degree factor into advancing in your career?
Absolutely! Having the RHIA under my belt made a big statement to my current employer. With this credential comes the notion that we're highly educated and skilled in our field. I'm finding that the greater Seattle area can be a competitive market, and many employers are looking to hire credentialed candidates.
Since I work at an outpatient clinic, it was important to my employer to hire someone knowledgeable and well qualified, because I single-handedly represent HIM in our clinic. I was able to show that I fit that description with my combination of work experience and RHIA certification.
Why did you choose to earn this degree?
I entered the UW knowing I wanted to be in health care. At first, I studied to be a clinical professional in direct patient care. I quickly changed my mind after one day in the skills lab, where I was asked to cut myself to determine my blood type. I realized I wasn't cut out to see blood. I learned more about HIHIM and thought it would be the perfect fit, because I could still work in the health care industry.
Did you make any valuable connections through the program?
Yes, many of my greatest relationships are with people I met through the program. Classmates truly turned into friends. We spent so much time together, studying and doing group projects, that you got to know people really well. My classmates are now my colleagues and we're doing the same thing, just outside the classroom. I also try to stay in touch with my instructors, whom I now consider mentors.
What kinds of experience did you gain that helped you meet your professional goals?
The important thing I got out of the program was my experience in working with groups, because I am constantly working on group projects in my role now. The exposure to all aspects that comes with a group project, from the planning phases to presentation, applies to my work now. It was helpful to repeat and practice these phases throughout the program.
What was the best thing about the degree program?
The people. We all went through this vigorous program together, and our cohort was made up of many different ethnicities, ages, and educational and professional backgrounds. It was interesting to learn from each other and our different perspectives.
What would you say to someone who is thinking about taking this program?
HIHIM plays a vital role in delivering outstanding health care, and this is your opportunity to be a part of that.
More HIHIM Alumni