The University of Washington School of Public Health (SPH) recognized dozens of students, staff, and faculty at its annual Awards of Excellence celebration, including six individuals from the UW Department of Health Systems and Population Health (HSPop). The Awards of Excellence celebrate members of the SPH community for their dedication, service, and many contributions to public health.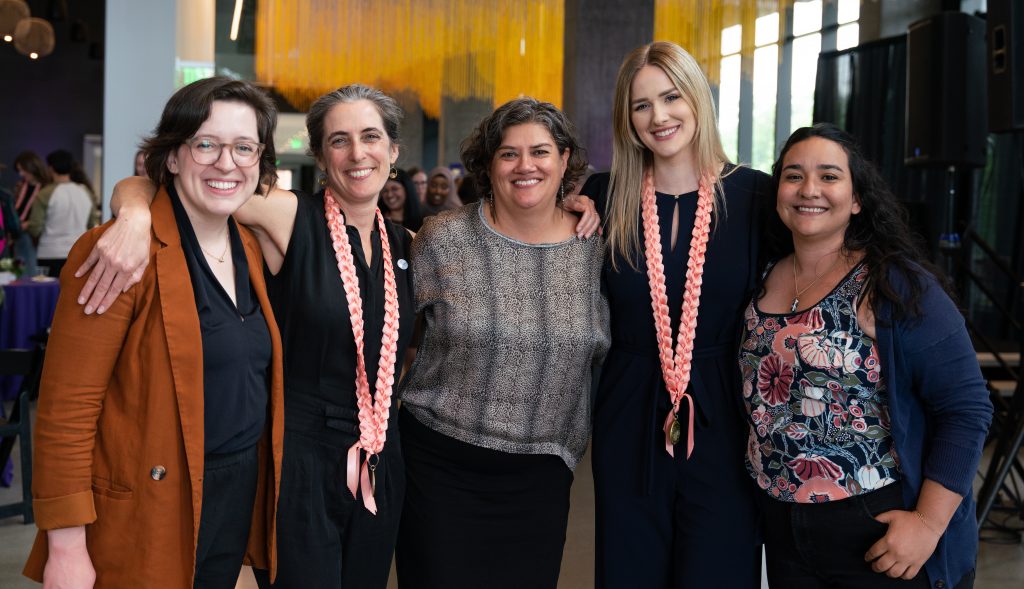 Outstanding Undergraduate Student: Vivian Ma (HIHIM)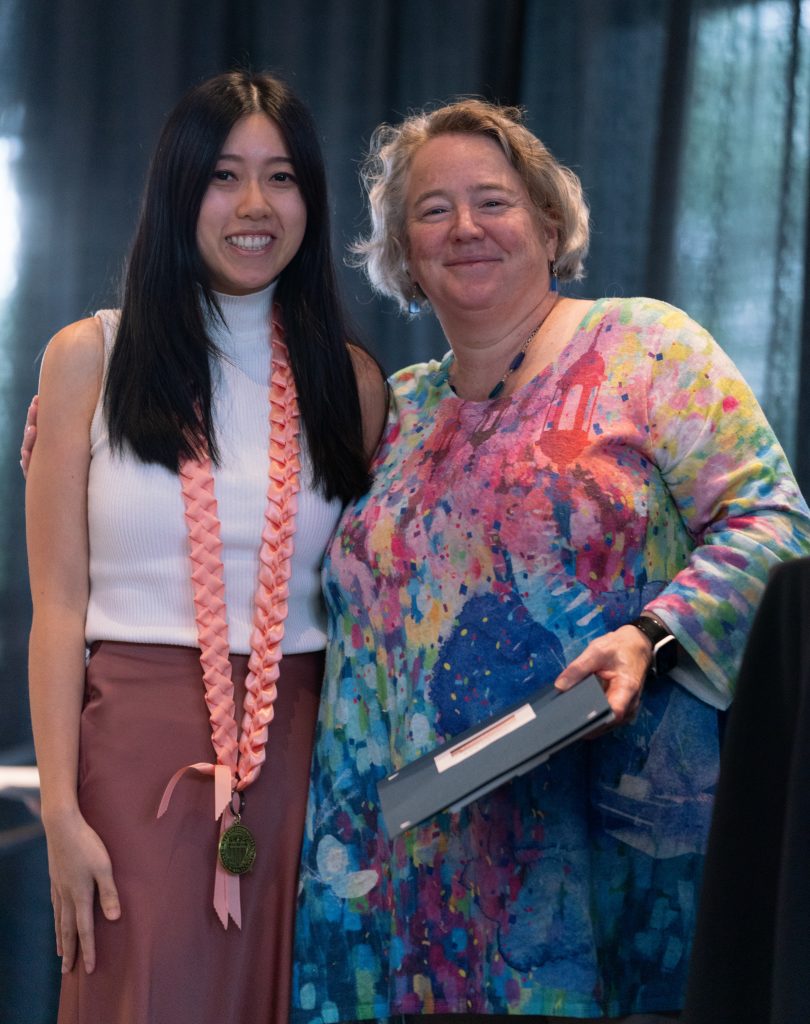 Since joining the Health Informatics and Health Information Management (HIHIM) program, Vivian has consistently showed her enthusiasm for health informatics and continues to challenge herself to learn and improve within the field. "I am pleased and honored to accept this award. My time in the HIHIM program has been nothing short of wonderful" she notes.
While completing the program, she had the opportunity to intern for Technology & Digital Solutions at Stanford Healthcare. There she completed an in-depth analysis of the CareEverywhere Direct Messaging system to help increase the number of clinicians who utilized the tool to streamline communication between mutual patients. Vivian is extremely motivated, and plans to continue promoting interoperability as a leader within the health information technology field. When reflecting on her time in the program, she notes "I have gained lifelong friends, professional connections, and a considerable depth of knowledge about technology transforming healthcare."
Outstanding Master's Student: Madhuri Deepati (Master of HIHIM)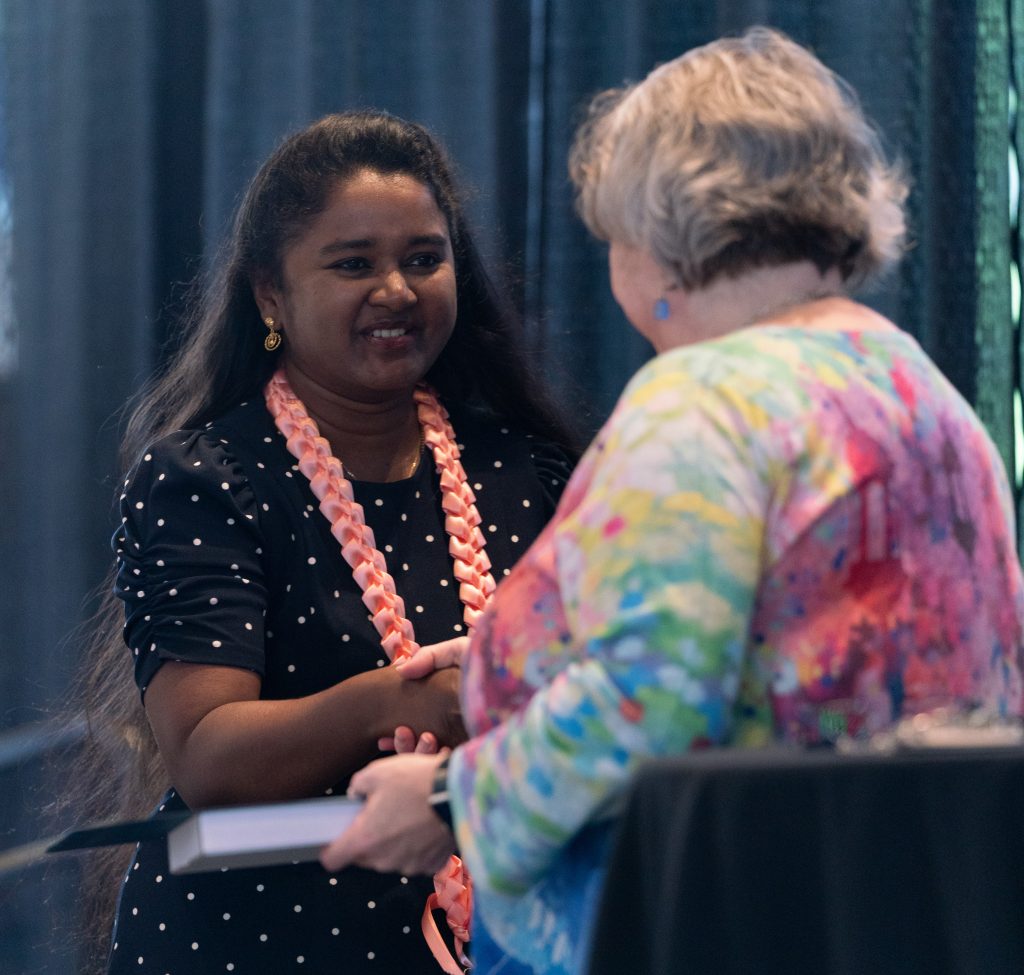 Madhuri Deepati completed the Master of HIHIM program in Winter 2023. Deepati considers a major takeaway from her time in the program to be the "excellent opportunity for students to gain a wealth of knowledge and skills to lead in all the areas of health technology and leadership. Well-designed curriculum, highly knowledgeable staff, great guest speakers and outstanding capstone project opportunities make this program truly exceptional."
A practicing dental surgeon from India, she completed her culminating capstone project with UW Medicine- Northwest Department of Laboratory Client Support Services. Client Support Services currently uses a phone-based communication system to manage 100+ calls per day and coordinate 100+ medical courier deliveries daily. Deepati successfully proposed the purchase and implementation of a web-based software solution which both streamlined inbound calls and automated courier management for the department.
Adding to her clinical experience as a dentist, Deepati feels invigorated by deepening her knowledge of the data available. "The idea of exploring the other side of the system, the exponential growth of health data and exciting new possibilities on the horizon with ever advancing technologies inspires my passion for health informatics and health information management."
Outstanding Master's Student: Taylor Erickson (Health Services MPH)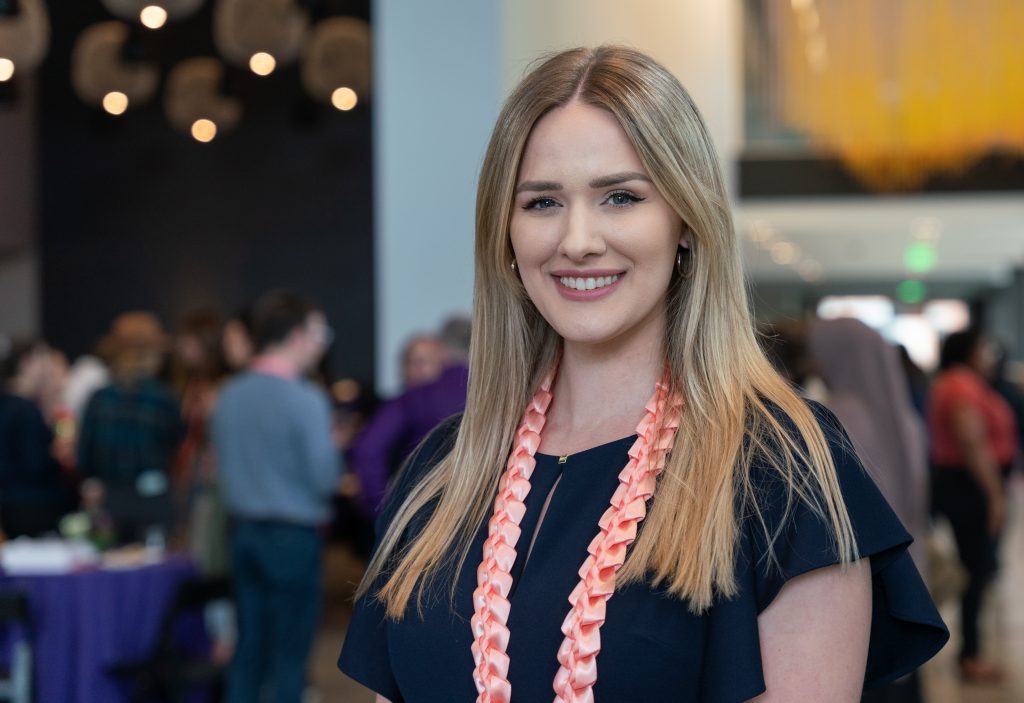 Taylor Erickson, second year student in the Health Services MPH program, feels honored to have received the UW School of Public Health's Outstanding Master's Student Award. "My work wouldn't have been possible without my peers, professors, advisors, and the HSPop department. I look forward to continuing my public health career after graduation!" said Taylor.
She added, "My practicum and capstone with EthnoMed at Harborview Medical Center were amazing experiences, and I'm thankful for the opportunities to serve refugee communities in King County." Taylor's work focuses on developing informational resources for healthcare providers that serve Afghan, Iraqi, and Ukrainian refugee communities. For this work, she received one of the Northwest Center for Public Health Practice's Student Funding Awards. Taylor also works as a Public Health Specialist with the UW COVID-19 Response and Prevention Team to mitigate the impact of COVID-19 across all three UW campuses.
Outstanding PhD Student, Raymond Ruiz (Health Services Ph.D.)
Among his many recent accomplishments, Raymond Ruiz is a recipient of the Outstanding PhD Student Award from the UW School of Public Health. "It is an honor," Raymond said about the award. "I am forever grateful for my time in the doctoral program, which would not have been possible without the immense support from the amazing faculty, students, and staff in the department." He is especially thankful to his committee members, India Ornelas, Jaimee Heffner, Christine Kava, Keren Lehavot, and Marissa Baker, for their mentorship and guidance.
Raymond, a distinguished scholar, will graduate with a PhD in Health Services in 2023, having already achieved a remarkable academic trajectory with 9 publications as co-author and numerous presentations. His research focuses on improving health outcomes for marginalized populations, particularly Latinx and sexual and gender minority communities. Raymond actively contributes to community-based participatory research, examining substance use among Latinx immigrant men and addressing tobacco use in LGBTQ populations.
His groundbreaking dissertation explores factors within the sexual and gender minority community that influence smoking cessation efforts. Alongside his research excellence, Raymond exemplifies a spirit of service, serving in leadership roles, hosting prospective students, and contributing as a reviewer for esteemed journals. His commitment to health disparities research will drive positive change in America's most vulnerable communities.
Outstanding Staff: Kathryn Calderwood
With over 20 years of dedicated service as an Administrative Assistant in the Department of Health Systems and Population Health, Kathryn Calderwood's wealth of knowledge and problem-solving abilities make her an invaluable asset to the Department. Her honest and compassionate approach, coupled with her unwavering commitment to collaboration, fosters a supportive environment for staff, faculty, and students. Kathryn's cheerful demeanor, attentiveness, and exceptional follow-through shine even during challenging times. She is a true unsung heroine and a deserving recipient of this recognition in the School of Public Health.
Gilbert S. Omenn Award for Academic Excellence: Lesley Steinman (Ph.D.)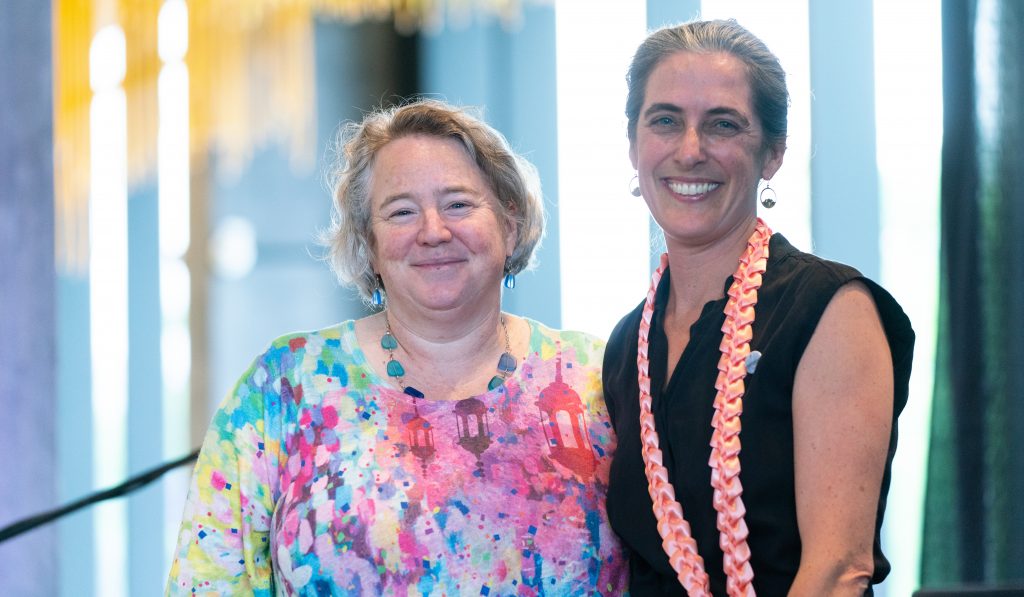 Lesley Steinman, PhD, MSW, MPH (she/her) is a Research Scientist at UW SPH's Health Promotion Research Center. She partners with community-based social service organizations to disseminate and implement a home/community-based collaborative care model for depression (PEARLS) and other proven programs for healthy aging. Guided by implementation science and health equity frameworks, they conduct community-engaged research, evaluation, training and technical assistance to understand, adapt, and improve program delivery to address inequities in access to care and health outcomes among underserved older adults in low-resource settings.
Steinman had been working at HPRC for 11 years when she decided to get her doctorate. A culmination of witnessing a tenuous political climate, turning 40, having kids out of diapers, and wanting to amplify her research chops and credibility invigorated her to serve her community in a new way.
Pursuing a doctorate was a privilege that Steinman recognized many of her peers with incredible expertise and life experiences don't have. Steinman had financial stability, a family living close by to help with childcare for her two children, a UW staff tuition waiver and a supportive work environment that allowed for flexible hours to accommodate her degree.
"I think that script is slowly but surely being changed, but we can do better in terms of how we structure course work and fund training," Steinman said, who is an advocate for pay equity. "There's no reason this degree should be so hard to obtain, and there are people out there with lived experience who need access to PhD programs to lead research that centers their communities."
Steinman was inspired to obtain her doctorate in service of the many people in her community doing this important work who couldn't get one.