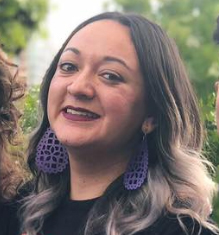 Andrea Vargas joined the Bachelor of Science in Health Informatics and Health Information Management (HIHIM) program as the advisor and student services manager in October 2020. She brings broad experience and an interesting background to her work and approach with academic advising. We asked Vargas to share a bit about her life and work.
What should people know about your early life and education?
I grew up in Whittier, California, a suburb southeast of Los Angeles. In high school, I thought I might want to be a teacher, a counselor, or study cell biology and become a researcher. I started undeclared at University of California Santa Barbara, changed my major five different times and ultimately graduated with departmental honors from the studio art program focusing on interdisciplinary work addressing themes of social issues, identity, and justice.
After graduation, I worked at University California Santa Barbara, and then at UCLA's Chicano Studies Research Center, until I had to decide between pursuing a master's degree in art or education for my next career step. I chose to get my master's in education from the Seattle University Student Development Administration within the College of Education, which led to me moving to this area I now call home.
What interested you in student advising, and the HIHIM program?
As a first-generation student and daughter of Mexican immigrants from a lower socioeconomic background, I did not understand the system of higher education, let alone how to navigate it successfully, and I faced many obstacles during my time in undergrad. Being queer and facing mental health issues during my time in school added to the intersectionality of barriers I dealt with. Ultimately, I was able to graduate and succeed because of the referrals to campus resources from my advisors. I realized along the way that as much as students needed help getting to college, they also needed help getting through college, and I wanted to be that representation, advocacy, and support for students. After advising at Seattle University for almost four years, I was ready for a change.
What initially drew me to the HIHIM program is my own experience with systems of healthcare. Although neither of my parents had the privilege of pursuing a formal education, both of them have worked various roles in hospitals for over 30 years ranging from janitorial, mail room, and cafeteria work to registration, billing, insurance, medical transport, scheduling, ER registration, and more. My sister works as a bilingual dietitian in our hometown area. In addition, I was in a motorcycle accident on my way to work during my last week at UCLA which resulted in my first surgery taking place in Los Angeles and my second surgery and follow up care here in Seattle. I was able to experience the huge difference in the patient experience when medical records, scheduling, cross-practitioner communications, etc. happen well, versus when they don't, which has made me appreciate the work that happens within health informatics and information management. For those wondering, my care in Seattle was excellent.
How has it been joining this organization during a pandemic?
I am such a relationship-driven person, so it has been somewhat of a challenge to get started without being able to fully connect with others. In terms of my work with students, it has made advising more accessible, especially for students not in the Seattle area or for those with significant family or work commitments, so it's been really nice to be able to truly meet students "where they're at". It's been challenging advising when the whole world is hurting and when we have not only the COVID-19 pandemic but the ongoing racial pandemic, but it also has been really rewarding. I have really enjoyed getting to know my coworkers in creative ways and working with students who are going on to make a difference in healthcare.
What do you hope to accomplish in your work?
I hope to bring my personal and professional experiences to support prospective and current students from recruitment to graduation. With my background in advising, policy, retention, and student success and my lens of continuous reflection and assessment, I hope to make our processes more accessible, equitable, and effective for students while being collaborative and supportive of my colleagues.
What do you like to do in your time outside of work?
I find relaxation in taking care of my dog, my plants, completing jigsaw puzzles, playing video games and hiking. Prior to the pandemic, I used to work part-time at a craft beer bar, play roller derby, and go to tons of concerts and shows. These days, I am the go-to person for beer recommendations and teaching others how to skate or where to find skate gear.
What else would you like us to know about you?
I consider myself a lifelong student and am passionate about working toward anti-racism and dismantling systems of oppression. I'm finishing up a certificate in public administration this year and hope to pursue a Ph.D. program one day, if I can ever decide on a field.