Meet Glenda Monterroza, an alum of the UW Online Master of Public Health (MPH).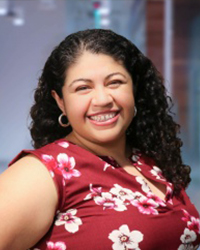 Program Manager, Blue Shield of California Foundation
Glenda Monterroza — who has an undergraduate degree in sociology and Spanish — was working at Kaiser Permanente on grants, community health collaboratives, and health promotion events when she caught the public health "bug." She decided she wanted to pursue her Master of Public Health (MPH).
"Public health felt like a really broad field that I could apply to many things, and values like social justice and reducing health care disparities were very near and dear to my heart," Monterroza said.
In this interview, the 2018 graduate shares why she chose the UW Online MPH program and how it helped inform her philanthropic priorities at Blue Shield of California Foundation, where she works as a program manager.
What does your job entail?
I work in philanthropy. My team figures out how to allocate resources to advance health equity for Californians, particularly those who are low-income and from communities of color. We also allocate resources to nonprofits that provide critical support to people affected by the pandemic.
In my role, I build relationships with community partners, go through research, and keep up-to-date on state and federal policies. I look at economic justice and health outcomes to evaluate what programs and initiatives work toward an equitable future.
Why did you choose the UW Online MPH?
I wanted to attend a university that had a full-fledged public health school, offered a variety of classes and formed deep connections with the community. The UW is well-known in the public health world for having top-notch faculty and research facilities. Also, having both online and in-person classes and a cohort model appealed to me.
What skills and knowledge did you gain from the program?
In addition to learning about public health concepts, I improved my writing skills and learned how to evaluate programs and conduct literature reviews and research. I use all these skills in my career to make the case for why certain organizations should be funded. The communications and theory classes were also valuable and helped me understand communication and advocacy strategies.
What were your practicum and capstone projects about?
For my capstone, I worked with the local public health department that was introducing high school students to public health careers. I evaluated their six-week public health curriculum. I conducted interviews, fielded surveys and complied research on various similar programs and models. I developed a theory of change for the work, which included recommendations to achieve certain short- and medium-term outcomes and a description of the long-term impact of those outcomes.
For my practicum, I conducted research on models and theories for community engagement for Healthy Richmond for their Health4All campaign. By training 10 community residents to serve as community health advocates, the organization hoped to create opportunities for residents to have their voices heard by key players in health care for the county.
What did the instructors bring to the program?
They brought a deep knowledge of their work and expertise. We learned what they were doing and how it fit into other parts of the University of Washington. Faculty members guided me through the process of figuring out my practicum and capstone.
What was your cohort like?
My cohort consisted of people from all walks of life, including doctors, nurses, health department professionals and a firefighter. Most folks were mid-career professionals around their early 30s, looking to advance their careers. Thanks to the program's cohort structure, my classmates and I built a small community. I still keep in touch with some of my classmates.
How did you balance both your school and professional life?
Almost everybody in my cohort was working and so it was nice knowing everyone was going through the same thing. The program was challenging because we had up to three classes on top of our nine-to-five jobs. It required a lot of discipline, but it's doable. One strategy I used was implementing a study schedule, setting aside dedicated study hours and setting up a home office.
What is your advice for those interested in the program?
Develop a good support system and consider a few practical things. Do you have a partner to help support you? Do you have a job that offers some level of flexibility or possibly tuition reimbursement? Public health is a subject that impacts everything, and there are just so many different things that you can do with it. Have a clear vision about what you want to do with your degree.
More Online MPH Alumni