Meet Chris Backous, an alum of the UW Executive Master of Health Administration (MHA).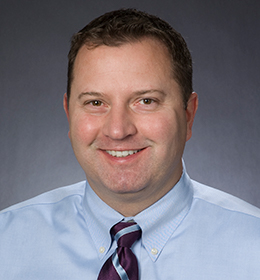 Senior Transformation Sensei, Virginia Mason Institute
With his Executive MHA degree, Chris Backous gained the knowledge and skills he needed to move into a leadership role in health care. Now he's a senior transformation sensei at the Virginia Mason Institute, where he helps organizations all over the world deliver better health care at a lower cost.
Pursuing the Executive MHA signaled his commitment to career growth to upper management. "When you commit to the rigor of an executive-level master's program in health administration, your organization realizes you're serious about being an effective change agent for health care," Backous said.
You're a transformation sensei at the Virginia Mason Institute. What does that role entail?
I work with health care organizations all over the world to use Lean thinking methods to transform their organizations and deliver better service, quality and performance at lower cost. I also work with these organizations to define the future of their health care processes and spaces through Lean facility design.
Why did you decide to earn an Executive MHA?
I was working at Virginia Mason using our Virginia Mason Production System, a management system adopted from the Toyota Production System and applied to health care, and developing that competency for others in the organization. I asked our CEO what I needed to do to further develop myself and have a longer future with Virginia Mason. He said, "Well, you need a ticket to enter leadership, and for us, that's a master's degree."
What appealed to you about the UW program in particular?
I wanted to continue working, and I was also interested in having a learning peer group who were seasoned veterans in health care. The UW executive master's program really spoke to me because I could continue to work, and I could learn not only from the professors but also from my peers.
The program teaches you to think. It really emphasizes developing a deep understanding and synthesizing information so it's something you'll use. Anyone can memorize, but the people who really synthesize are the ones who can take what they learn and make a difference.
Did getting your master's degree help you advance your career?
Absolutely. Before I began the program, I wouldn't say that I was on our leadership's radar for further development as a leader. Going into the executive master's program really put me on their radar. It made them more aware that I'm serious about my commitment to the organization and my development as a leader.
Did any classes stand out as especially interesting to you?
One of the first courses we took was from Phil Haas about world health care systems, which is actually where my life is now — working to understand world health care systems so I can guide and advise leaders on how to make a difference in health care. It's kind of like I live Phil's class every day.
Can you describe your capstone project for the program?
I did my capstone project at Virginia Mason, where I created a Lean redesign of the pediatrics facilities and services. Within two months of completing my capstone, we had the opportunity to act on that redesign plan and develop a whole new facility.
Did the capstone project lead to other career opportunities?
Right at that time, Virginia Mason had committed to building the Jones Pavilion, a hospital addition where we would use our Virginia Mason Production System to develop the care spaces of the future. Our chief operating officer was looking for someone to make sure the Lean principles of the Virginia Mason Production System were maintained during the visioning, design, development and construction process.
It was a perfectly timed opportunity where I had new capacity and ability and they had a need. From there, I moved over to the newly formed Virginia Mason Institute as one of the original faculty members.
What do the instructors in the Executive Master of Health Administration bring to the program?
The instructors are here to create deep thinkers and deeply committed future health care leaders. I was impressed at their level of knowledge and the fact that they were all still active in their professions. They bring real-life experience, not from 20 years ago, but from 20 hours ago. What we were learning was very current and appropriate for where health care is going.
What did you gain from doing group projects during the program?
We all relied on one another and learned to take care of each other. We learned that it's not about you completing your work — it's about performing and learning together. That collaborative perspective really helps, because not only do you develop deep friendships with these people, you know that at a very critical point in your life they had your back and you had theirs.
I would say my greatest gift from the program, beyond everything I learned, was the people that I encountered. I was able to build lifelong professional and personal relationships.
More Executive MHA Alumni