Meet Catherine Rizos, an alum of the UW Community-Oriented Public Health Practice Master of Public Health (COPHP MPH).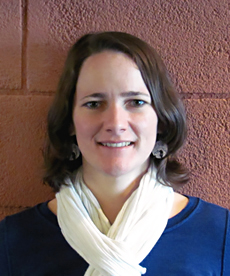 Director of Communications, Massachusetts Legal Assistance Corporation
Communications is an essential part of the public health mission. Catherine Rizos, shares how the COPHP MPH program put a priority on those vital communication skills. "There are so many interesting, innovative public health interventions happening, yet many … people lack the information they need to access such programs," she said.
Can you talk about your background and what you currently do in your job?
I was a Spanish major and earned minors in political science and photography; I had pretty broad interests as an undergraduate. It wasn't until after college, when I served two years in AmeriCorps, including one at a rural health center in northern California, that I really got interested in public health.
I now work for the Massachusetts Legal Assistance Corporation, the state's largest funding source for civil legal aid, whose mission is to ensure that low-income individuals and families have access to legal assistance in noncriminal cases. I manage the website, publications and social media channels for MLAC and the Equal Justice Coalition, the state's advocacy voice for legal aid. Many of the systemic challenges that plague public health exist in the civil justice system, so a lot of my work involves research and writing about issues like housing, health care and education, which helps me stay connected to public health on a daily basis.
How did this program benefit you in your career?
I'd say a real benefit was the opportunity to practice fundamental skills that I use every day in my job — writing, research and communicating with others. Also, the program allows students to explore topics they are interested in, whether it's environmental health, health communication or reproductive health, among others. It's broad enough to give people the freedom to study what they're interested in but specific enough to teach the skills really needed after graduation.
What is it about public health that attracted you to the field?
For me, with a background in language and literacy, what really fascinated me was how there are so many interesting, innovative public health interventions happening, yet many of them are still not accessible to most people. Many people lack the information they need to access such programs. The question I'm interested in answering is how we can address differences in literacy level, language and background and be successful getting good information out to as many people as possible.
What would you say is distinctive about the UW Master in Public Health in Community-Oriented Public Health Practice?
The COPHP program focuses on problem-based learning, which involves taking an issue and looking at that very broad issue through a specific case study. You work with your classmates to learn about the important facets of key topics using that one person or one community story. I think that practical application of public health knowledge really sets this program apart.
Another thing that sets COPHP apart is the supportive learning environment. The people I met — in addition to having a wealth of really fascinating experience — were extremely good listeners. They were kind and considerate people who were always interested in hearing about others' work, ideas and experiences. We all worked hard to learn from each other, and it's the most supportive learning environment I've ever been in a part of.
What types of projects did you work on?
There is a capstone project that gives you freedom to explore what you're interested in and allows you to dedicate energy to a project you believe in. Because it's a long-term project, you have the time to really get to know a community organization. The capstone emphasizes creating a product that's useful to the organization you're working with, so it's not just for the sake of doing research or completing your degree, but to do something that helps the community.
My capstone project, for example, was a pilot vision-screening program at a high school to determine how many students with reading problems were actually having trouble reading because they had untreated vision problems. We then worked to help those students who had vision difficulty get glasses so they could see better and consequently read better. For me, it reinforced how health issues are often tied to socioeconomic status and how that can affect students' educational performance.
What would you tell someone who is considering the University of Washington COPHP program specifically?
I think the most important thing needed to succeed in COPHP is a willingness to listen and learn from others. A huge part of the program involves spending time with your classmates, learning about them — what they're interested in, what they've read about and what they can teach you. Ultimately you have to be open both to new ideas and new ways of learning.
More COPHP MPH Alumni