Meet Carolanne Sanders, an alum of the UW Community-Oriented Public Health Practice Master of Public Health (COPHP MPH).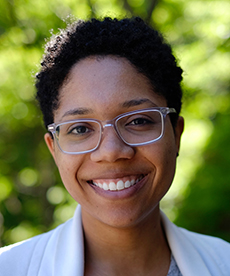 Jail Diversion Coordinator, King County Department of Community and Human Services
While working as a case manager, Carolanne Sanders saw firsthand that health care is about more than HMO health insurance plans and annual check-ups.
"I realized that a person's ability to live a healthy life couldn't be completely taken care of within the four walls of a doctor's office," Sanders said. "Social systems like access to affordable housing, transportation and child care, and cultural factors like racism have huge impacts on a person's health."
Sanders' interest in public health led her to the Community-Oriented Public Health Practice Master of Public Health (COPHP MPH), which gave her the knowledge to help address these social inequities while advancing her career.
In this interview, Sanders discusses how the COPHP MPH program helped her confront today's pressing issues and inequities in a new role with King County.
What drew you to this degree?
When I was a case manager right out of college, I worked to help individuals get access to housing, primary care, employment or mental health services. Through this experience, social justice and racial equity became very important topics to me. I was drawn to the COPHP MPH program because of its explicit emphasis on these social determinants of health in the curriculum and commitment to health equity.
What's unique about the COPHP MPH program?
The COPHPMPH program is taught by faculty members who are both subject matter experts and have public health jobs outside of academia. They are valuable sources of inspiration and guidance for a career in public health. The COPHP MPH network is also incredible: I found mentors, job opportunities and volunteer opportunities through the relationships I formed in the program.
What's a memorable experience you had in the program?
I completed my practicum with a Seattle-based NGO called VillageReach, whose president is a COPHP MPH graduate. Community health workers in Malawi were working on an innovative mobile health program to address the shortage of doctors and nurses in the country, and I developed a training manual for those health workers and traveled to Malawi to pilot-test it.
What are you working on now?
I'm the jail diversion coordinator for the King County Department of Community and Human Services. I oversee publicly funded programs that serve people who cycle through the criminal legal system due to unaddressed behavioral health needs — be it substance use or mental health — and extreme poverty. My primary role is to coordinate with partners across city and county government as well as the community to get our participants resources they need to thrive.
How did the COPHP MPH program help you with this role?
I use nearly every tool that I learned from our public health toolkit in my work. I use my COPHP MPH knowledge to assess, implement and evaluate projects; I use it when I communicate and engage with stakeholders. The knowledge I gained from the program helps me to more effectively train and provide clinical oversight to the case managers who work out in the field. The problem-based learning aspect of the curriculum also gave me the skills and confidence to troubleshoot the different issues I face every day.
What would you say to someone interested in the program?
COPHP MPH is a transformative experience, both professionally and personally. Because COPHP MPH has made a commitment to anti-racism, it requires a level of introspection that goes beyond a lot of graduate programs. Be prepared to have your beliefs and values challenged and molded in ways you may not expect.
More COPHP MPH Alumni