Meet Asnani, an alum of the UW Online Master of Public Health (MPH).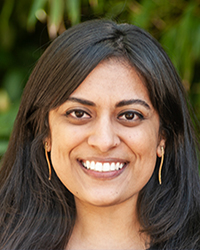 Program Manager, Seattle Children's Hospital
Anu Asnani became intrigued by the field of public health toward the end of her bachelor's program. Although she was able to switch her major to health promotion and health behavior, she knew that she would eventually want to pursue a master's in public health to further explore the field. While working as a community care coordinator at Seattle Children's Hospital, Asnani decided the time was right.
Asnani shares how the UW Online MPH program helped her gain the skills she needed to advance her career.
What's your current role?
As a program manager at Seattle Children's Hospital's care coordination department, I work on strategic initiatives to manage a patient's length of stay and to prevent patient readmissions. We pilot interventions and implement the ones that are successful and best fit our goals of improving the patient's quality care and their ability to care for themselves. In this role, I frequently use the program development and evaluation skills that I gained in the UW Online MPH program.
Why did you choose the UW Online MPH over other MPH programs?
I chose the UW Online MPH program because the UW School of Public Health has a prominent reputation. I also looked forward to the personal interactions from the on-site sessions.
In addition to program evaluation skills, what other skills and knowledge did you gain from the program?
This program helped me build my leadership, time management and public speaking skills. I also learned how to approach problems more methodically. I apply these soft skills in my day-to-day work.
What were your practicum and capstone projects about?
Seattle Children's Hospital does a lot of good work supporting patients and families. My practicum was screening patients for housing instability. At the time, screening for social determinants of health was a fairly new concept. It has since become more embraced by various parts of the hospital, which is very fulfilling to see. We now also have a food security program that's managed by my previous practicum adviser. There's also work being done on standardizing our assessments of and implementing programs related to social determinants of health.
My capstone was an evaluation of an automated discharge follow-up phone call program. I evaluated caregiver perceptions of their patient's discharge and their transition back to the community. This project helped me transition my career into becoming a manager for care coordination programs and stemmed into other projects and quality improvement interventions.
What did the instructors bring to the program?
The instructors challenged us to think outside the box and how to apply the material we learned to our careers. They were very supportive and understanding that almost all of us were either working, had families or both.
What was your cohort like?
My cohort was supportive. They were diverse in terms of professional backgrounds and ages. Most of them were working and had kids and families, and so it was also encouraging knowing that you were not alone trying to manage school and work.
What were the on-site sessions like?
I really enjoyed the in-person sessions because it was an opportunity for us to meet our professors, learn more about each other in our cohort and build relationships. The on-site sessions were also very easy to accommodate with our work schedules.
What advice would you give to someone starting the program?
Prepare to build and rely on your professional and personal support system. Mentally prepare to be completely committed to the program for the next two years and that you may have to pause other parts of life. Embrace the challenge and those two years will fly by.
More Online MPH Alumni