These are bios for UW Health Services Ph.D. alumni who work in health care. Contact us to learn more about how you can potentially connect with these alumni for advice, mentorship, or open positions at their organization.
Katherine Blondon | University Hospitals of Geneva
Senior Faculty, Medical Directorate, University Hospitals of Geneva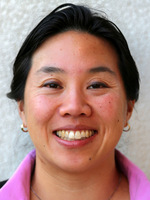 Katherine Blondon began her studies in the Health Services PhD program in 2011. Blondon pursued an area of emphasis in Evaluation of Patient-Focused Technologies, and worked closely with Wanda Pratt and James Ralston to complete her dissertation, "The potential for improving care in diabetes through mobile devices, patient empowerment and financial incentives," before graduating in 2013.
At present, Blondon works as a senior faculty in the Medical Directorate of the University Hospitals of Geneva, Switzerland, and as a research coordinator in the interprofessional simulation center of the University of Geneva, Switzerland. She pursues research in the use of mobile technologies to improve patient engagement and self-management in chronic diseases. She is developing mobile apps for healthcare providers. She is also leading research projects to improve care transitions, particularly physician hand-offs, and interprofessional collaboration.