Modern health care systems rely heavily on information — huge volumes of patient data that must be tracked, managed, and analyzed using complex systems and technologies. This has created a large and growing demand for trained experts who can administer these systems effectively and produce better health outcomes.
In this certificate program, students gain specialized skills to manage health information and electronic records in a variety of health care settings. Coursework explores the major tools, technologies, and processes used for the secure collection, organization, and evaluation of personal health information. Students also investigate legal, regulatory, and compliance issues; delve into financial management and quality assurance methods; and hone leadership abilities.
Career Statistics
75%
alumni working in the field
Top Employers
Fred Hutchinson Cancer Center, Kaiser Permanente, Providence Hospice of Seattle Foundation, Swedish Health Services
16%
projected job growth for health information technologists in Washington state (2018-2028)
$57,580
Average salary for health information technologists in Washington state
Sources: Lightcast; O*NET OnLine
Who Should Apply
Individuals with a bachelor's or higher degree in any discipline, especially allied health sciences, nursing, business, or information technology, who want to enter the field of health informatics and health information management should apply.
Applied Learning
Coursework emphasizes:
Major health information systems and the technology infrastructure and standards that affect them
Tools to lead information management efforts in the delivery of high-quality health care
The organization of health care services across the spectrum of governmental and private sector delivery systems
Legal principles and policies connected to health information management
Core functions involved with health information governance and data management
Hands-On Experience
Students complete a project in health informatics or information management for a health industry partner.
Prepare for RHIA Certification
Students who complete the program are eligible to take the exam to become a Registered Health Information Administrator (RHIA), a nationally recognized credential that affirms your expertise in health informatics and health information management. The exam is administered by the American Health Information Management Association (AHIMA).
Customize Your Plan of Study
Depending on their professional and educational background, students can complete the certificate program in one or two years of part-time study. After students are accepted, program faculty design a custom study plan that factors in previous academic coursework, certifications, and professional experience. Custom study plans generally range from 43 to 78 credits.
Accreditation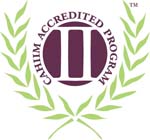 The Commission on Accreditation for Health Informatics and Information Management Education (CAHIIM) is the accreditor for health informatics and health information management at the University of Washington. CAHIIM reaffirmed accreditation for the UW Bachelor of Science in Health Informatics and Health Information Management degree through 2030. All inquiries about the program's accreditation status should be directed to CAHIIM.
Requirements
Admission Requirements
Prior to applying, students must have:
A bachelor's degree from an accredited college or university*
Completed the following courses by the start of the program with at least a 2.0 GPA or have the equivalent knowledge or skills:

human anatomy and physiology (lab recommended)
statistics in any discipline
*Students who have not completed a bachelor's degree may seek admission to the UW Bachelor of Science in Health Informatics and Health Information Management program.
Required Immunizations
All applicants accepted to the Certificate in Health Informatics and Information Management are required to show documentation of protection against a number of vaccine-preventable diseases. Documentation must be completed by the end of the first quarter of the certificate.
International Students
To enroll, international students must have a visa that permits study in the United States. The program does not enable students to obtain or maintain F-1 visa status. For more information, see Admission Requirements for International Students.
Technology Requirements and Computer Proficiency
Students need a laptop computer to bring to class with the following:
Recent Windows or Mac operating system (Windows 7 or macOS X or later)
Current web browser (Chrome or Firefox)
Built-in Wi-Fi