Student ambassadors are current UW Master of Health Informatics and Health Information Management (MHIHIM) students who help prospective students learn about the program. Student ambassadors have a wide variety of relevant experiences and interests.
Interested in meeting an ambassador?
Please contact us (hmigradinfo@uw.edu).
Class of 2024
Joyce Mwangi (she/her)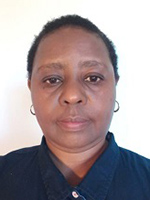 Hi, I'm Joyce Mwangi. I came to the United States from Kenya in 2012. In 2015, I graduated from the University of Washington (US) with a master's degree in cultural studies.
I'm a records analyst with UW Medicine's Enterprise Records and Health Information department. Before moving to the United States, I worked with local and international nonprofits in Kenya, and my last position was country manager for health and protection projects with Save the Children.
The health care sector is rapidly shifting globally due to the advance in health information technology, and this is affecting the way we work. I joined the UW Master of Health Informatics and Health Information Management (MHIHIM) program because it offers advanced knowledge and understanding of health informatics, information governance, analytics, and electronic records management, which will help me advance my career goals.
I enjoy being in the Master of HIHIM program. My cohort is incredibly supportive, and we learn from everyone's experience. The faculty and staff are supportive, accessible, and provide professional development resources. I'm excited to be a student ambassador and hope to support new students. I encourage you to always reach out with any questions that would help you adjust easily to the Master of HIHIM program.